Water Boring and Drilling Contractors
Water Boring and Drilling Contractors, Centre State Drilling, servicing the Central Victoria region for over 35 years, has built an enviable reputation as the industry leader in the Water Boring and Drilling Contractors field. Utilising his renowned water divining abilities, Dan McMahon is able to offer a written guarantee of "No Water No Charge" to his Water Boring clients, thereby eliminating a large risk factor.
A phone call to Dan McMahon will result in a friendly open honest down to earth conversation about your Water Boring and Drilling Contractors requirements and expectations. Dan offers a free onsite consultation service, prior to drilling your Water Bore. Arriving onsite, Dan will divine for the best location for your bore, he will also go thru a Water Bore database report with you, offer a written quote and No Water No Charge guarantee and certification of Australian Made materials. Dan will also give you access details for an online Bore permit application, which takes about 5 minutes to fill out and submit online and you will then have your permit back within 10 minutes, simplifying the whole process.
When the client is ready to move ahead with a Water Bore, one of our rigs will arrive onsite, operated by Dan McMahon, setup on the previously divined site and drilling will commence.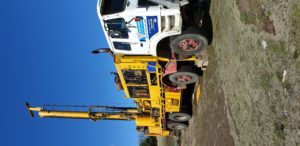 The Water Boring process will continue until a suitable flow of water is reached, then it will be flow tested to ensure continuity.
Your bore will be lined with high pressure certified Australian made Bore casing. It will also have a high pressure Australian made PVC Screen installed.
Your bore will be cased to full depth, sealed and grouted with a cement grout mixture, to the surface. and Capped. You will be given a Bore Completion report. Dan can also liase with a reputable Pump Installation company for his clients, simplifying the whole process. Dan Highly recommends both Midland Irrigation and Whites Electric Motor Service for your bore pump supply installation servicing and repair requirements.
After the Water Boring process and pump installation is complete, your property will then have its own secure independent water supply.
A quick fundamental tutorial on the whole process can be found here…..
https://www.midlandirrigation.com.au/
https://www.youtube.com/watch?v=cKweHAwj9-A&t=297s
https://www.youtube.com/watch?v=FuDy5ieqB7U
https://www.youtube.com/watch?v=E9gpY_vggXY
https://www.youtube.com/watch?v=FuDy5ieqB7U
https://www.youtube.com/watch?v=CVIQzu9RbcY