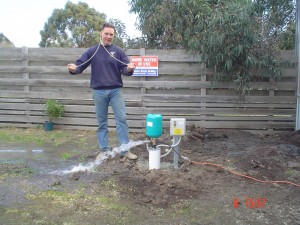 Water Boring Drilling Contractors
We are the industry leader the Water Boring Drilling Contractors in the field, with the best reputation and reviews because we get the best results. Written guarantee of "No Water No Charge". Obligation free onsite consultations written quotes water divining groundwater database search and report. Established well over 30 years. We are the premiere Water Boring Drilling Contractor with a No Water No Charge written policy.
Reputed for our punctuality honesty integrity and friendly down to earth demeanor, we strive to offer the best possible Water Boring Drilling Contractors service to all clients. With well over 30 years hands on experience we have built a wealth of local knowledge in most areas which allows us to advise on drilling solutions for your water needs.
The following short video is one we produced to explain the basic fundamentals of the whole water bore drilling process. Not everyone has had or seen a water bore drilled. To the uninitiated it can be somewhat intimidating at first, a big noisy machine in the backyard, boring its way into the earth. In this video we explain each step, concentrating on the most important aspects, location, construction, quality of materials and bore development. If these key elements are addressed then you will have a reliable water bore that consistently produces a clean stable water flow.
A water bore and pump installation is not a "cheap" exercise. Its an investment and as with any investment its one that needs to made with as much information at hand as possible. Thats one of the reasons we went to the time and expense to have this video produced. We also provide, free of charge, a comprehensive Groundwater Database search and report on any bores in your immediate vicinity. This will give us data on the depth, yield and water quality of bores in your area which is quite useful in determining the possible outcomes of a bore on your property. Once again, its more information on which to base your decision.
Some of our Water Boring Drilling Contractors references as follows…..
Would highly recommend Dan to anyone thinking about putting a bore in. He has a wealth of knowledge, works efficiently and is really honest and true to his word. Don't contemplate getting anyone else to do your bore!!
Dan Mcmahon is one of the most genuine and honest people I have met. Dan says no water no pay, our property gave all the signs of water and we engaged Dan to do a bore, unfortunately, after hours of work drilling, there was only a trickle …
More
I highly recommend Danny !
Professional Service, quality Australian made products. A fantastic result, we now have plenty of clean water to keep our garden green and healthy!
Thanks again Dan
Highly recommend. Professional, honest and friendly delivering a great result!! Very happy!!
Excellent service and great knowledge.
Very impressed with the process and price ⭐⭐⭐⭐⭐
"We are so happy with Centre State Drilling. Dan is professional, diligent and delivers on his promise. I highly recommend him to anyone considering getting a bore."
"Great customer service! Very pleased with Dan's work at our property!! We have had a few bores put in now by Dan and highly recommend!"