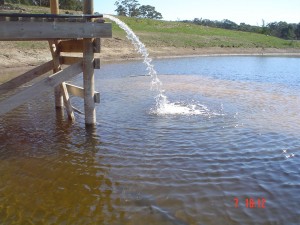 Drought Proof your property with a Centre State Drilling Water Bore. Our policy of No Water No Charge takes the risk out of finding water of your property, thanks to our Water Divining skills, we are able to offer a written guarantee of No Water No Charge, with a stipulated bare minimum  bore flow rate of at least 15 lts per minute.
With the strengthening Drought conditions, indications are for a prolonged drought of substantial proportions. Now is the time to organise your bore drilling. Centre State Drilling"s Dan McMahon is a renowned water divining specialist. Dan is able to pinpoint the best location for bore drilling and he backs it up with his "No Water No Charge" written guarantee.
With well over 30 years hands on experience drilling bores, Dan has the ability, knowledge understanding and localised experience to get you the best results, as can be seen by the multitude of glowing reviews and feedback. Our reputation is built on honesty integrity professionalism and great results.
We offer:
Free groundwater database search and report.
Obligation free onsite consultations.
Onsite Water Divining.
Written Quotes.
Simplified fast bore permit application process.
Written Guarantee of "No Water No Charge"
Written certification of Australian made high pressure bore casing.
Prompt professional friendly honest down to earth advice.
Our reputation and reviews speak for themselves. We are the industry leaders when it comes to water bore drilling contractors in central Victoria. To further discuss or explore your water bore drilling requirements in central Victoria, contact Dan McMahon for an obligation free onsite consultation.
https://www.facebook.com/borewaterdrillers/?ref=aymt_homepage_panel
https://www.youtube.com/watch?v=cKweHAwj9-A&t=1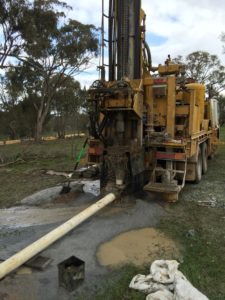 "Would highly recommend Dan to anyone thinking about putting a bore in. He has a wealth of knowledge, works efficiently and is really honest and true to his word. Don't contemplate getting anyone else to do your bore!!"
"Dan McMahon is one of the most genuine and honest people I have met. Dan says no water no pay, our property gave all the signs of water and we engaged Dan to do a bore, unfortunately, after hours of work drilling, there was only a trickle which really was useless and not enough to finish the bore. Very disappointing for all concerned. Without any fuss Dan was true to his word and did not charge us anything, just cleaned up and left. I highly recommend him to anybody who is considering using centre state drilling. Other drillers would most certainly have charged us thousands for a tiny trickle of water. Do not think twice about calling Dan, make him your first call."
"We are so happy with Centre State Drilling. Dan is professional, diligent and delivers on his promise. I highly recommend him to anyone considering getting a bore."
"Great customer service! Very pleased with Dan's work at our property!! We have had a few bores put in now by Dan and highly recommend!"